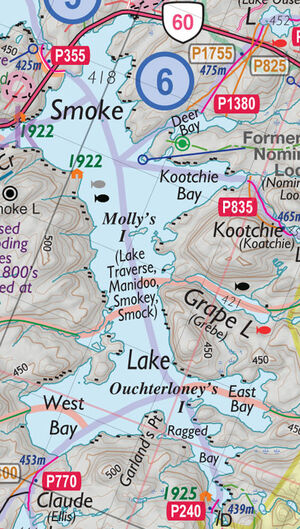 Smoke Lake is a popular entry point for sites south of Highway 60. You can check into the park at the Algonquin Park station across the highway on Canoe Lake.
Canoes and other supplies can be rented at The Portage Store at the Canoe Lake Park station area and carried across the highway to the docks on Canoe Lake. Open in Google Maps
Because Smoke Lake is adjacent to Highway 60, it has small powerboats and cottages on long-term leases - so you're not in the wilderness yet. There are no campsites on Smoke Lake.
Strong north-south winds can sometimes make paddling a real effort. Mollie's Island is a good rest stop.
Access from:
[
]
Canoe Lake from the north (either by portaging 355m or, if you are energetic, by canoeing via Bonita Lake, Tea Lake and Smoke Creek)
Tea Lake, Smoke Creek, Swan Lake & Little Smoke Lake from the west
Claude Lake and Ragged Lake from the south
Grape Lake & Ouse Lake from the east
Points of Interest
[
]
Mollie's Island
[
]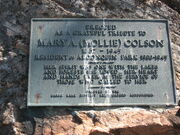 Part way down the lake is Mollie's Island,Open in Google Maps named after Mary (Mollie) Colson, a park resident from 1900-1945. A plaque, on the western tip of the island, honours her memory.
Also at the western tip of Mollie's Island is a beautiful S-shaped tree, reminiscent of the one in "Northern River", a famous Tom Thompson painting.